Mobile Tyre Services Across the Sunshine Coast
Friday 9 June 2023
Back to Latest News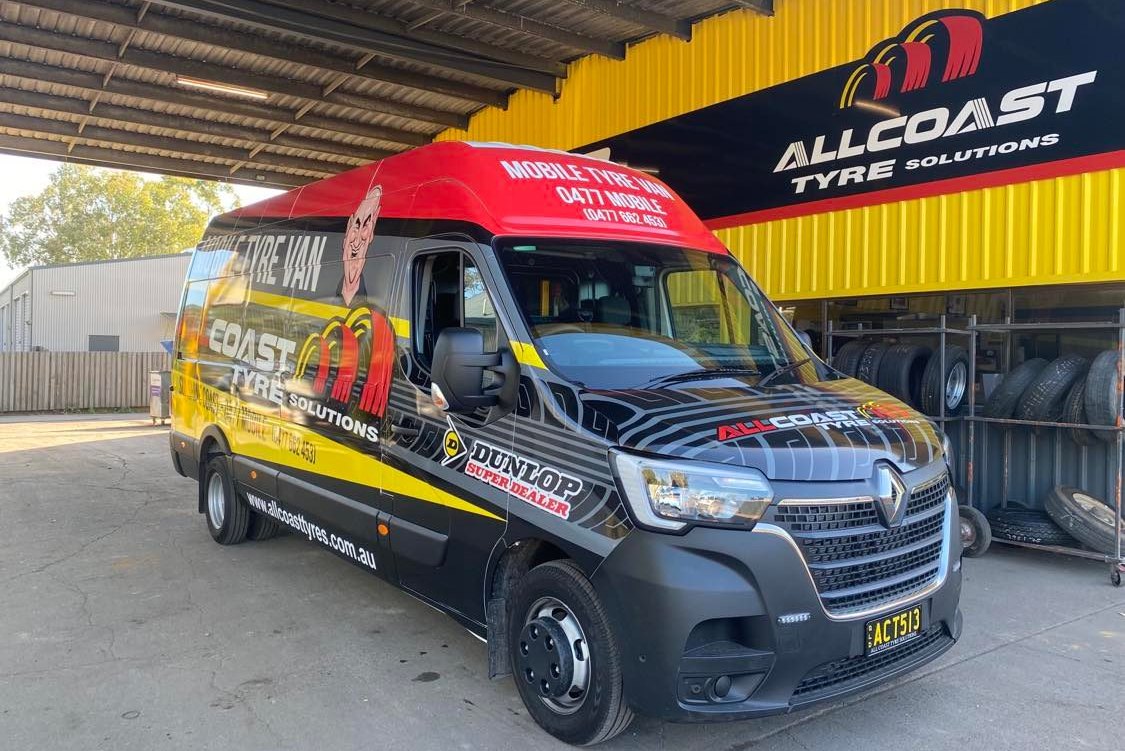 Do you struggle to find the time to bring your vehicle to a mechanic for tyre fitting? Well, now it's much easier with our mobile tyre fitting service. Our mobile tyre van comes to you, whether you're at home or at work. We get your tyres fitted right there, so you don't have to go anywhere. We also offer tyre servicing and repairs to keep your wheels in good condition.
Want to find out more? Keep reading to find out all about our mobile tyre fitting and tyre service options.
Mobile Tyre Fitting from All Coast Tyre Solutions
Our new mobile tyre fitting services are designed to replace your tyres all over the Sunshine Coast. We have a brand new Mobile Tyre Van, which is dedicated to meeting you wherever it's convenient to deliver this service. We can fit tyres for your commercial or passenger vehicles, SUVs, and 4x4s in around an hour. Whatever your needs, our trained and experienced team will come to you and take care of the job.
Your car just needs to be parked on a flat and even surface, with somewhere for our van to park. As long as you have the space, we can meet you at home or at work to sort your tyres.
At All Coast Tyre Solutions, we have 4 store locations that also act as our tyre warehouses. They allow us to supply the tyres you need, with major brands such as Dunlop, Goodyear, Michelin, and more stocked and ready to go. Just call us to book your tyre fitting, and we can book an appointment Monday to Friday, between 8am and 5pm. We can even do same-day fittings if we have your tyres in stock.
What's included?
The All Coast Tyre Solutions fitment service includes everything you need to get your new tyres ready. When we fit your tyres, we make sure to:
Tighten all wheels to the correct tension
Double inflate all tyres
Clean and buff mounting faces
We can also repair punctures, replace valve stems with metal valve caps, and check the condition and pressure of your spare tyre.
Mobile Tyre Service, Maintenance, and Repairs
We don't just fit new tyres with our Mobile Tyre Van. Our team is also able to respond to call-outs for tyre maintenance and repairs. When your tyres need servicing, we can respond at a time that suits you. All of our repairs are carried out to Australian Standards to provide only the very best in safety. We thoroughly inspect each tyre all over by removing it and performing repairs from the inside, before we refit and balance each tyre and wheel that required repair.
While we're there, we also check the pressure of all of your tyres, including your spare. This ensures you're perfectly safe to get back on the road.
Convenience and Time-Saving
When you need to save time, our Mobile Tyre Van makes things simple. Convenience is at your fingertips when you can simply book in your service and wait for us to come to you. And when we're finished, we can organise payment over the phone, using Eftpos, Zip Pay, or After Pay.
We can fit and repair tyres on passenger vehicles, SUVs, 4x4s, trailers for cars, boats, and campers, and even mowers and ATVs. We're happy to help with vehicles of various sizes, whether it's your personal car or your business needs help to get part of your fleet out on the road.
Why Use Our Mobile Tyre Van?
It's not always possible to get yourself to a repair facility when you need help with your tyres. Sometimes your vehicle won't be able to get there safely, or you might just not have enough time. If getting to us is too difficult for you, we can just come to you. Our mobile service is here to help when you have a flat tyre, a vehicle that won't run, or just too much on your plate to make it to one of our service centres.
If our mobile van isn't available when you need it or you would rather come to us, we can also book you in at one of our 4 store locations to take care of your requirements.
Want to know more about our Mobile Tyre Van? Call 0477 MOBILE to enquire about our services and find out how we can help. Speak to a friendly member of our to discover our comprehensive tyre services across the Sunshine Coast. Alternatively, ask about booking your vehicle in at our locations in Nambour, Maroochydore, Yandina, and Gympie.